A novel by
Sharon Duggal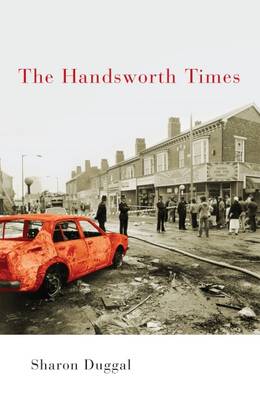 AVAILABLE NOW FROM
Waterstones as a paperback or hardback,
ANY local bookshop by just asking them to pre-order for you.
REVIEWS
...quite simply the most accomplished, complete and startlingly authentic novel I have read ...
'The Handsworth Times, utterly of a specific place and time but also universal in its themes, is a prose
act of praise to the humanist spirit that will never succumb to fear and hatred. It is quite simply the
most accomplished, complete and startlingly authentic novel I have read this year.'
Paul Simon, The Morning Star
'The writing is as joyous as the story itself. Totally recommended.'
Irene Brew, W​omanReadsBooks
'A stunning debut novel that is both relevant and important ... a book for our times'
City Reads 2017
'A raw and emotional read that draws you in from the very first page.'
Jo Worgan, ​Brew & Books
'An outstanding work in every aspect. It conveys a visceral sense both of time & place with a prose
style that manages to be both clear & detailed, & also stylish & unostentatiously poetic. But for all its
literary qualities, the book is also gifted with fiction's first requirements, a rattling good yarn & an
engaging cast of characters, & these are again managed with consummate & effortless skill.'
Robb Johnson, Singer/Songwriter
'A book of redemption and hope set against what was (for those of us that remember it) some of the
worst riots that Britain has ever seen. Bluemoose is a small publisher but punches above its weight
with some amazingly good books. This is one of them ... A damn fine read.'
Laura Lockington - Brighton & Hove Independent
'Sharon's book couldn't have been published at a more relevant time. It has heart, humour and courage.'
Sarah Hutchings - Artistic Director, Collected Works CIC
'Brilliant debut novel ... it's an all too timely exploration of racial tension, the rise of the right, the
searing pain of grief and the healing power of direct action. ... bursting with life and period detail,
but is no cosy nostalgia trip - it's powerful, raw, challenging and ultimately uplifting'
Pete Lawson, writer
'Duggal captures the ambient world of Birmingham's multicultural inner-city at a moment in time...
her book is, in turns, affecting and desolate. But at its heart it is a personal tragedy ... And it is this
emotive centre which enables it to transcend time and place while still reflecting the peculiarities of
the immigrant experience.
A refreshing and authentic voice.'
Zaheer Kazmi, 3:AM MAgazine