Should We Fall Behind is about the passing of time, and the intricate
weaves of joy and suffering, love and loss which shape human life along
the way. It is about the people who have somehow become invisible, and
how their stories make them visible once more
___________________________________________________
Jimmy Noone escapes his difficult life in a small town and finds himself
living on the streets of a big city where he meets Betwa, who brings
with her a chance of real friendship and a glimpse of new hope. Betwa
disappears and Jimmy walks across the sprawling metropolis searching for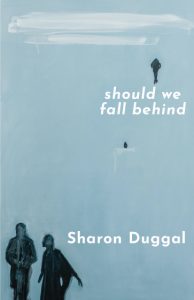 her.
He arrives on Shifnal Road on the other side of the river where people
from all over the world live side by side yet some inhabitants are so
isolated they seem to have disappeared altogether. Jimmy becomes the
catalyst for their lives colliding.
Journeys to the street and to the city are retraced, so too are stories
abundant with lost dreams, unrivalled friendship, profound love and
stifling grief, each underpinned with the subtle threads of commonality
which intersect them all.
Should We Fall Behind is about the passing of time, and the intricate
weaves of joy and suffering, love and loss which shape human life along
the way. It is about the people who have somehow become invisible, and
how their stories make them visible once more.
"Duggal writes about the devastation of vulnerable lives with all the hard-eyed clarity of William Trevor, and as much literary heart as Rohinton Mistry – SHOULD WE FALL BEHIND deeply inhabits its world but wears its craft so lightly – it is beautifully observed, suffused with inner-city melancholy and shot through with the hope that can only come from random encounters, the small acts of generosity that help strangers to find affinity with each other even in the worst of times"
Preti Taneja, award-winning author, We That Are Young
"A marvellous read – A tale of how so many of the ordinary people we encounter are extraordinary, which makes this book more compelling with each page"
Mark Steel, comedian and writer
"The prose is just exquisite: crystalline, precise, beautiful … "
Elspells Blog
"An achingly tender gem which explores the meaning of home and community in its many, complex guises. Compassionate and wise"  
Laura Wilkinson, author of Skin Deep
"Penetrating writing, analogous to the films of Ken Loach … impeccably paced"
The Morning Star
"Profound, powerful and utterly compelling, Should We Fall Behind is a novel for our times"  
Amy Raphael, author and journalist
SHOULD WE FALL BEHIND IS AVAILABLE FROM:  Bookshop.org,  Amazon  and other independent, high street and online bookshops